Questions you should ask your potential photographer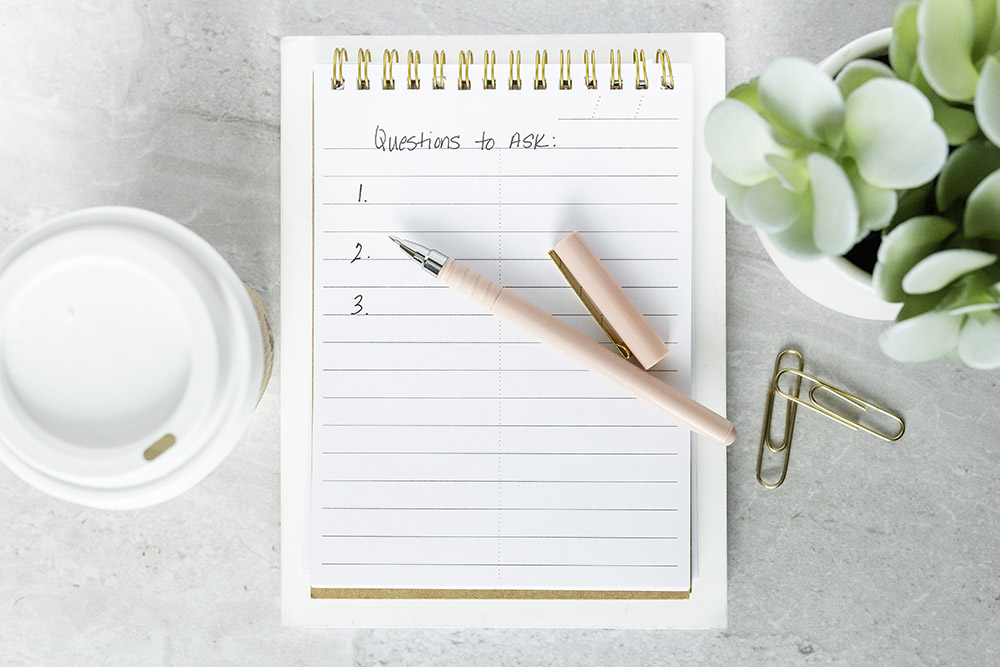 Not quite sure what questions you should be asking when interviewing potential wedding photographers? Here's a list of things to ask and why they're important. 
What's your style?  This may seem like a pretty upfront question and you may think that you  already know from looking at a photographers social media account and website but make sure you ask. If you find yourself loving the look of light and airy romantic images make sure the photographer you're interviewing consistently shoots that way. 
How many events will you be shooting that weekend? Larger studios may have multiple photographers and might book multiple weddings in a weekend because they have the resources to do so. Smaller studios may only have one photographer. Shooting multiple weddings for a single photographer could end in lack of detail and customer experience could suffer.
Do you have a contract and what does it consist of? It's important to make sure your photographer has a contract and that you look over it. The contract should state things like what happens incase the photographer gets sick or bad weather. Make sure to look over the contract and write down any questions you may have about it.
Do you have an assistant/second shooter?  This is an important question to ask especially if there is only one photographer. If you have a wedding with over 50 guests I think it's important to consider having a second shooter/assistant. There is so much happening so fast and sometimes it's hard for a single photographer to catch every single moment or to stay focused when there are so many things going on. 
What kind of editing do you do? This question kind of goes along with the what's your style question and should seem obvious when looking at a potential wedding photographers portfolio but double check. You want to make sure that they're editing style is consistent with the type of style that you like. Don't interview a romantic, light and airy photographer when you tend to love and gravitate towards images that are more dark and moody. Another question you might want to ask is if they do any editing such as air brushing or heavy editing such as fixing facial features or weight. If heavy editing is something you will want, make sure you find a professional that will be able to do that. 
Should the event last longer then scheduled, will you stay and what is the extra charge? Most wedding packages consist of 8 hours of photography but make sure you finalize all the little things before the wedding day. The last thing you want is the photographer packing up and leaving before your first dance as a married couple or being surprised with a bill of an additional $1,000 before they release images to you. 
How long after the event for the images? Every photographer is different in how long after an event it will take to receive your images. Typically for a wedding I would say anywhere from 4-6 weeks before you receive your images. Make sure you ask though! 
Do you offer albums? If an album isn't already included in the wedding photography package make sure you ask. If an album is something you're considering ask for pricing information up front, that way you can add it to your budget.
These are just a few questions you can ask to help you find your perfect photographer. 
Check out this post on tips to find the perfect wedding photographer. 
Wanna chat? Hit the contact me tab! 
Happy planning!
Kellie