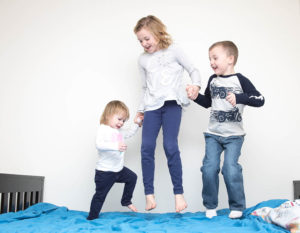 So, you're thinking about scheduling a lifestyle session but you aren't really sure exactly what it is or what to expect. Don't stress! I have some great information to help you.
A lifestyle session typically takes place inside your home. If you would like some tips on how to get your home ready for a lifestyle session you can click here. Being in your everyday atmosphere allows for a comfortable session. Lifestyle sessions are ideal for clients with littles. Children tend to be more comfortable in their own surroundings and warm up more quickly. If you would like some tips on how to prepare your child for a lifestyle session at home click here.
When I say lifestyle, I mean life inspired and authentically staged. Life inspired and authentically staged meaning we are setting up the photograph but we are capturing authentic reactions and connections between you and your family, we're setting up an action to create a reaction. For example, I might direct you and your family to the couch and I'll say get close and snuggle up, then I'll have dad say a joke or mom tickle the kids and with those actions we get real, authentic reactions like laughing. During a lifestyle session we don't say "say cheese" not every picture needs to have everyone looking at the camera and smiling at the same time. Some of the best photographs come from everyone interacting and engaging with each other. The non-scripted photographs are the ones you will cherish the most because they depict your family connection and your love.
Lifestyle photography is aimed to document real life, real moments. With my guidance we will capture pure and simple moments as you spend time with your family. I want to give you photographs that, when looking back, will not only remind you of what your life looked like but what it felt like.